THURSDAY 20th December 2018
Christmas Charity Fundraising Night with Special Guests
All proceeds to be shared equally between Nightingale House Hospice, Wrexham and The British Lung Foundation
The event is always well attended so we recommend arriving at 7.45pm.
FREE ADMISSION
Finger Buffet provided by the club
---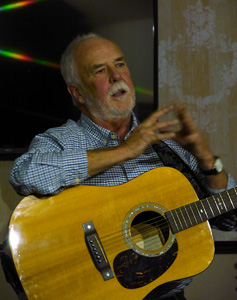 It is traditionally that time of year when we remember others either in our memories or in more practical ways. In the past decade or so the club has raised thousands of pounds for both Nightingale House Hospice and Wrexham Breathe Easy charities. This year, the proceeds will be shared equally between Nightingale House Hospice, Wrexham and The British Lung Foundation.
The compere for the evening, as in other years, will be Barry Evans who is a regular at the club on Singer's Nights throughout the season and is renowned for his humorous introductions.
As usual there will be a packed programme of music with club regulars and old friends performing a variety of songs. There will be plenty of opportunities to sing along and get into the Christmas spirit.
Guest performers to be confirmed soon.
Sadly one of the club's founder members, John Evans, passed away in 2002 and it was his loss that brought about the idea to have this Charity Night every Christmas in John's memory and to donate the proceeds to Nightingale House who looked after him so well and, later, in equal measures to The British Lung Foundation in memory of Goff's wife Liz.
As in previous years ADMISSION IS FREE but there will be raffles for a number of prizes, and donations for both charities are always welcome. This promises to be another wonderful, warm and joyful night and, in the true spirit of Christmas, remember that to give is better than to receive, especially when it is going to two such worthy causes.
---
THURSDAY 17th January 2019
Singers' Night
---
THURSDAY 7th February 2019
Harbour Moon
Harbour Moon released their debut album "Whisper on the Wind" at the end of June 2011 and have appeared throughout the North West's acoustic, roots and folk venues.
Easy listening original songs and imaginative covers, with close harmonies and humourous banter.
£6.00 on the door
---
THURSDAY 21st February 2019
Singers' Night
THURSDAY 7th March 2019
TBA
THURSDAY 4th April 2019
Vicky Swann and Johnny Dyer
£7.00 on the door
THURSDAY 18th April 2019
Singers' Night
THURSDAY 2nd May 2019
Paul Walker and Karen Pfeiffer
£6.00 on the door
---
We also have event pages and pictures from previous events on Facebook