Thursday 3rd May 2018
The Time Bandits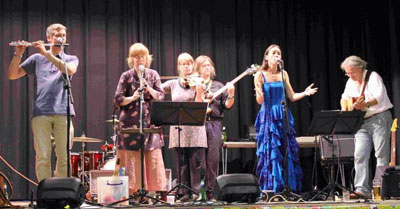 A Chester-based band with a fascinating repertoire mixing Renaissance and early dance music with traditional and self-penned folk tunes and songs.
The band make regular festival appearances at Chester Folk Festival and in recent years we have also appeared at Chippenham, Shrewsbury , Fylde, Bridgnorth, Middlewich and Rhuddlan Folk Festivals and the Chester and Llangollen Fringe Festivals.
The band's remit is to be musical 'time travellers' raiding and pilfering over 500 years of musical material to be brought back and performed in an updated setting for a modern audience. Central to the band's philosophy is that early music is not for the museum. Whether first played 500 hundred years ago, or perhaps a mere hundred years ago, this is living music that should be played and enjoyed with a passion. We hope you agree.
£6.00 on the door
---
Thursday 17th May 2018
The last Singers' Night of the season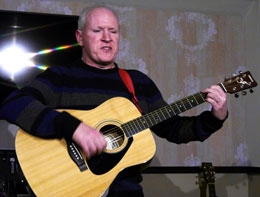 Our legendary "Open Mic night without the mic" at The Nag's Head is always well attended by performers and audience alike. It has attracted performers from far and wide, playing all kinds of music and songs. Being unplugged and in a small room it generates an intimate atmosphere that is difficult to find these days, with plenty of audience participation and banter.
Why not come along and see for yourself? It's free admission so there's nothing to lose and plenty to gain.
As a bonus, The Nag's Head is arguably the best pub in town, with an excellent selection of beers, and good food.
8pm to 11pm
FREE ADMISSION
---
Thursday 4th October 2018
Kevin Dempsey
One of the most sought after musicians on the folk scene, Kevin is a top quality live entertainer, being a guitar master and accomplished singer. He has performed and recorded alongside many a famous acoustic and folk legend including Dave Swarbrick, Chris Leslie and Mary Black.
Kevin always puts his audience at ease, with a varied and wonderful musical journey.
Admission £6.00 on the door
---
Thursday 18th October 2018
Singers' Night
---
We also have event pages and pictures from previous events on Facebook